Wake Forest, North Carolina, 27587
Vehicle highlights
Manufacturing Year:

1993

Make:

Nissan

Model:

Skyline

Exterior color:

Grey

Interior color:

Black

Transmission:

Manual

Engine:

RB20DET

Mileage:

118,000 miles

VIN:

HCR32-292129 Buy a CarVX Report!

Title status:

Clean
Buyer Toolkit
Finance
Learn more about how you can finance this car.
CarVX Report
Check the car's history before it was imported from Japan.
Description
1993 Nissan Skyline R32 GTS-T Type M in Sedan in KH2 Gunmetallic Grey, purchased from Driver Motorsports in November 2022:
- Mileage: 118k *actual* miles, no cluster swap
- Clean North Carolina title in hand
- RB20DET / 5MT
- NO ACCIDENTS or HIDDEN RUST -- CarVX is clean!
- Working AC & heat
- PRICE: $29,500 **WILL CONSIDER TRADES for JZX100 Mark II or Chaser (MT/GTE only)** If the ad is up, the car is available.
This is one of the cleanest R32's that you will find stateside: interior, exterior, undercarriage, and engine bay. *Brand new mods purchased & installed since I picked the car up from Driver Motorsports in November 2022*
Modifications:
- BC Racing BR coilovers ($1400 - installed one week ago)
- Authentic Blitz FMIC *Specifically chosen due to using OEM intercooler piping routing, NO holes cut in this car for IC piping* ($500 - Will include OEM side mount IC)
- Apex'i intake (Will include OEM intake box + filter)
- Authentic Vertex Kumadori steering wheel ($475 - Installed two months ago)
- Infamous Aero roof spoiler (paint matched)
- Project Kics R40 neochrome lugs w/locks ($250)
- Saiko Custom Works dash mat ($150)
- GKTECH HICAS Delete
- GKTECH Inner Tie Rods
- 17" Desmond Regamaster Marquis Promada ($3k+... the center caps alone are worth $500)
- PS Duce front bumper (this kit is ~$2000 shipped to the US, unpainted)
- PS Duce side skirts
- PS Duce rear bumper
- Blitz Nur Spec exhaust
- Immaculate R33 GTR seats (Worth ~$3k in this condition)
- R32 GTR front and rear brakes
- New Kenda KR20A tires
- OEM Nissan Skyline floormats (front & rear)
- Strut tower bar
- Cluster works perfectly
- Engine runs strong & sounds great; transmission shifts smooth with no grinds. *NO CHECK ENGINE LIGHTS OR MECHANICAL ISSUES*
Cons - Not many, considering it is a 30-year-old car:
- Very small crack on the front bumper (bumper is fiberglass, can very easily be repaired)
- Wheel finish is not perfect; good condition; considering the age I really cannot think of anything else.
Video
Seller information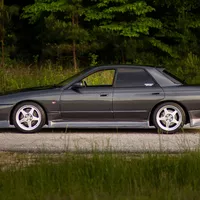 Email verified
Comments
More Nissan Skyline for sale
---
The accuracy of this listing has not been verified by JDM Supply. All information has been provided by the seller, and buyers are responsible for verifying the physical condition and all specifications of the listed Item. We recommend that you physically inspect the Item before purchasing. For our full terms and conditions, click here.