Los Angeles, California, 90210
Vehicle highlights
Manufacturing Year:

1996

Make:

Nissan

Model:

Cima

Exterior color:

White

Interior color:

Black

Transmission:

Automatic

Engine:

VQ30DET

Mileage:

98,000 kilometers

VIN:

FHY33-800769 Buy a CarVX Report!

Title status:

Clean
Description
NOTE: NO TRADES! I am only selling because moving to Japan at the end of the month to get married, only reason I'm selling all my cars!

Hello everyone, up for sale is my beautiful 1996 Nissan Cima 30TR. This is a Cima - Nissan's top of the line luxury sedan that was the basis of the Infiniti Q45 in the states. However, unlike the Infiniti, the Cima came with the optional VQ30DET engine, Nissan's legendary Turbo V6 that combines reliability, performance, and ease of modification all in one package. The TR is the sportiest trim level available for the Cima, and includes many sought after parts. The Y33 is a great platform with cars like the Gloria and Cedric, but the Cima reigns supreme as the top dog and was the most expensive vehicle made on that platform, with the biggest dimensions and longest wheelbase. Something even more special about my car is that it has only 98k VERIFIED kilometers (61k miles!). It is a very low mileage example in very clean shape. It's definitely a head turner while cruising down the road, this thing has a menacing presence.

My car is equipped with the following:
-VQ30DET Turbo engine
-Power Seats
-Power Windows
-Power Locks
-Cruise Control
-GPS/TV/Audio MultiAV System
-Automatic A/C
-Automatic Head lights
-Power folding side-mirrors
-Wood Trim
-Touring Package

My particular car was very much loved by its previous owner in Japan, and it shows with a heavy amount of expensive and tasteful modifications including:
-Brembo brake calipers all around, with slotted brake discs
-HKS Front Mounted Intercooler with HKS Turbo Timer
-Aftermarket Oil Cooler
-Greddy Turbo Kit with Boost Controller and Engine Management System
-Tein Suspension Kit with Electronic Adjustment System
-18" TSW Wheels
-Strut Tower Bar
-HID Headlight Upgrade
-Clifford Anti-Theft System w/ Kill Switch
-Aftermarket Exhaust (not sure which brand)

And many more upgrades that I can't remember off the top of my head.

Last Service was done just about 100 miles ago and I did the following:
-New battery installed
-Oil change (Mobil 1 full synthetic, 10W-30)
-Valve Cover Gaskets Replaced (see pics, not an easy job on this car and was quite a bit of work)
-Coolant Flush and Change
-Transmission Fluid flush and change

The VQ30DET revs beautifully, the turbo kicks in like it should and it is a truly visceral driving experience. With the modifications this thing is quite a beast, and really packs a punch. Automatic transmission shifts flawlessly, and is very smooth.

Exterior wise paint is very good aside from the rear spoiler which has some peeling, and also a spot next to the "Nissan" badge on the rear trunk. There is also a ding over the gas cap, some scratches on the front lip (as to be expected by a lowered car) and a dent on the left side skirt beneath the rear door. Other than that car is very good body wise, and in excellent condition for a car this age. The rear right wheel is has a bent to it. No rust present.

The interior is pretty much perfect condition. Only issue is a slight crack on the wood paneling cover over the cupholders, but luckily I have found a complete set of new wood trim for the center console on this car which will be included in the sale.

Mechanically car is perfect, and good to go.

Electronically, everything works except for the Radio/TV/GPS unit. I found someone on FB that is selling new units, I just don't have the time to install myself as I am moving to Japan soon. Luckily, there is a good write-up I found on how to remove this Multi-AV system and get another radio unit in of your choosing, while keeping A/C controls on the car. A/C works and is ice-cold. The car is titled and registered in Washington state in my name, and is good to go for the new owner, no need to jumble with a bunch of Japanese paperwork as the car is now officially fully U.S legal.
Comments
More Nissan Cima for sale
Flint, Michigan, 48532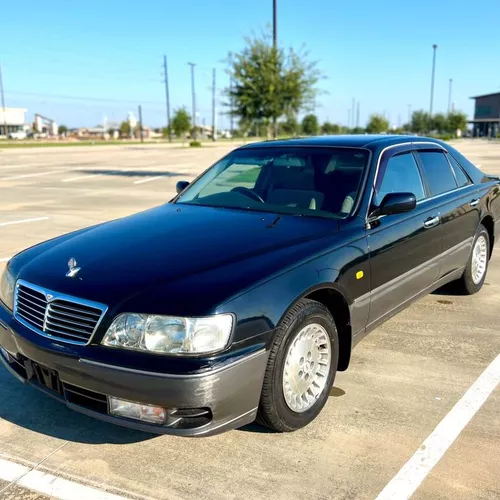 Katy, Texas, 77494